Day 176
Day 176 - 10 Years
| | |
| --- | --- |
| Date: | 4th June 2006 - 4th June 2016 |
| Location: | Australia wide |
| Conditions: | Great |
| Members: | PK, GK, Paul K and John K |
This week we celebrated our 10 year rocket anniversary since our first bottle rocket flight in the back yard. It's been a fun journey so far building and flying rockets with dad and the boys. but what has made it the most enjoyable have been the people we've met along the way whether in person or just on-line. We would like to thank both the water and pyro rocket communities for their great support, it's been very inspirational to see what individuals as well as teams can achieve with a lot of dedication. We would especially like to thank the following: NSW Rocketry Association, AMRS, QRS, WARS and Rockerty Victoria.
Video Highlights
Here is a quick summary from our flight log of what we got up to in the last 10 years:
There have been a total of 977 rocket launches and static tests. This was made up of:

- 751 single stage water rocket launches.

- 57 multi-stage ones.

- 93 pyro launches with motors ranging from 1/2As through to Gs.

- 76 static tests in various configurations.
We pushed a total of 1260 Liters or 8 bathtubs full of water through rocket nozzles, closely followed by about 21,000L of air through the same nozzles.
There were a total of 90 explosions and crashes. That gives us a failure rate of around 9.2%
Longest run without failures: 71 flights
The combined total air time of all flights was about 8.5 hours
We haven't lost a rocket yet, though one was stuck in the tree for over a year (392 days) before we finally got it back.
To date our highest water rocket has gone 1941 feet and highest pyro rocket has flown to 3321 feet.
About 1/4 of all water rocket flights had altimeters on them so here is a chronological view of the altitudes from those flights: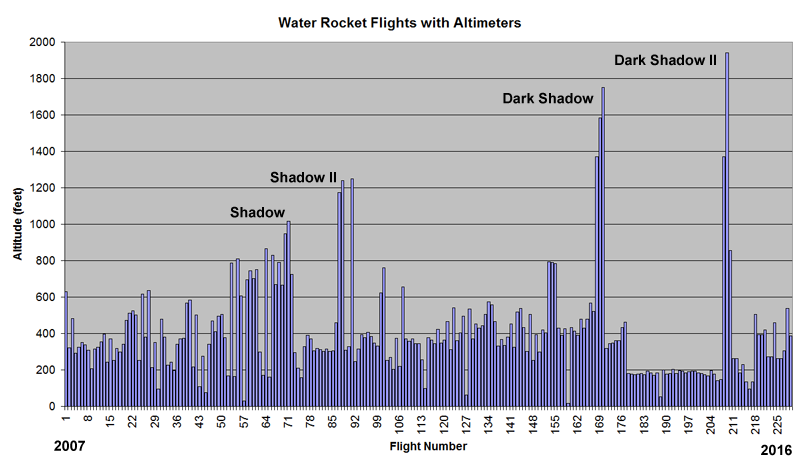 Then and Now
Here are a few pictures from 2006 and 2016:
2006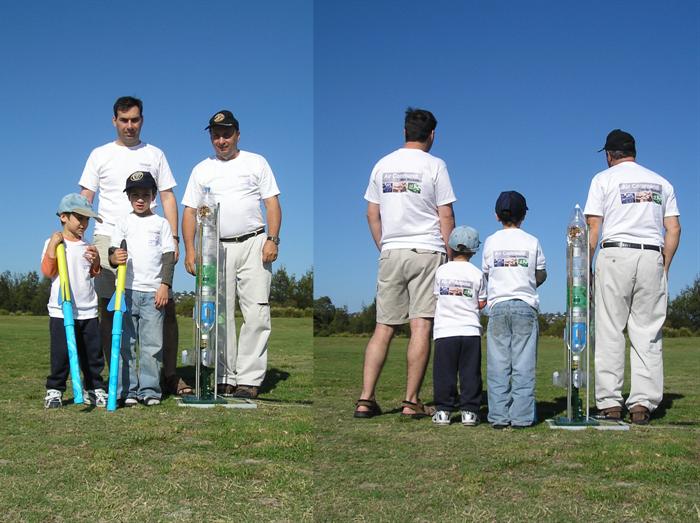 2016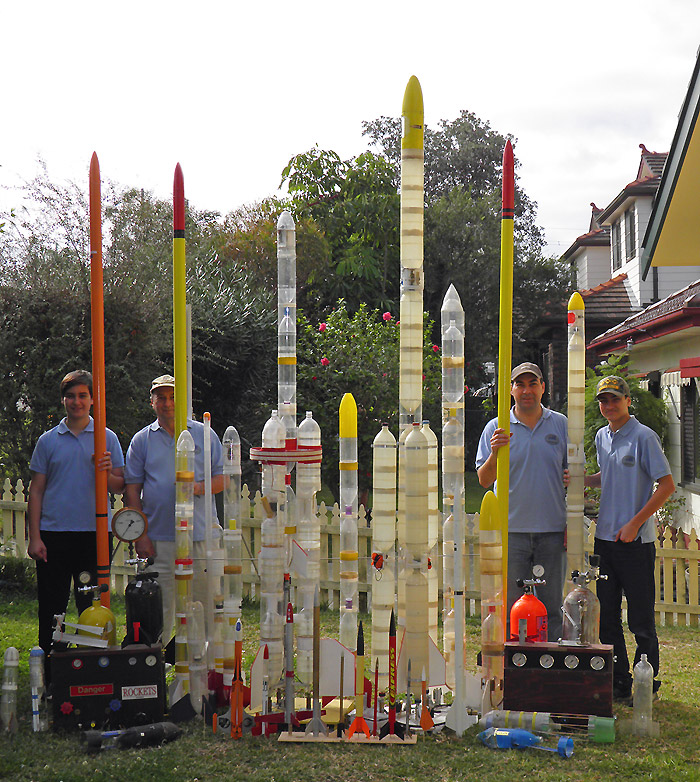 What's Next?
We are looking forward to re-flying the full Polaron G2 rocket again in September if the weather co-operates this time. We've also got 2 new higher power projects in the works and the full build logs will again be published soon.
Thanks again for your great support!