Day 184
Day 184 - Axion G6
| | |
| --- | --- |
| Date: | 28th January 2017 |
| Location: | Whalan Reserve, Australia |
| Conditions: | Mostly Sunny, medium breeze, 30C |
| Members: | PK, Paul K, John K and GK |
Video Highlights
Axion G6 flights
Earlier this month we had a visit from Olivier who is a friend of Francois Herzig. Olivier brought one of Francois's rockets with him. He had travelled though Australia for several months and had the rocket with him the whole time. It wasn't until mid January that we were able to meet up. So we wanted to say a big thank you to both Francois for sending us his rocket and to Olivier from bringing it personally all that way. The video above shows details of the rocket.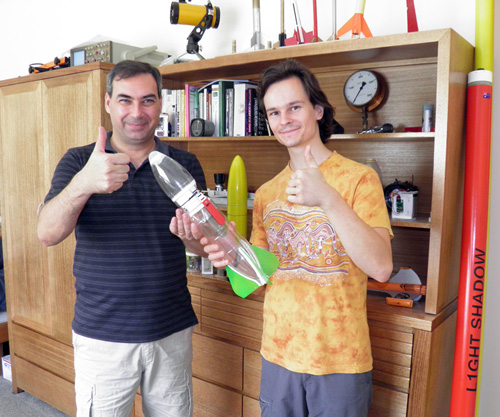 We only did a couple of flights this week with the Axion G6 rocket again. The first flight went well at 200psi and had a good landing. On the second flight the rocket landed in the trees but only about 10m up so it wasn't completely out of reach. We spent some time throwing ropes over the higher branches to try to shake it loose. This partially worked and the rocket came down to about 6m. We then finally managed to get ropes over the correct part of the tree and shook it down from there. The on-board camera managed to capture most of the recovery procedure but after 40 minutes the camera stopped recording just short of the time that we pulled it down. No damage was done to either the rocket or the parachute and the rocket will fly again.
We're pretty happy with the performance of this rocket. It will be used in some up coming experiments that we have ready for next launch.
Flight Details
Launch
Details
1

| | | |
| --- | --- | --- |
| Rocket | | Axion G6 |
| Pressure | | 200psi |
| Nozzle | | 9mm |
| Water | | 1500mL + foam |
| Flight Computer | | STII |
| Payload | | HD Cam #16 |
| Altitude / Time | | ? feet / ? s |
| Notes | | Good straight high flight. Parachute deployed right at apogee. Good landing. |

2

| | | |
| --- | --- | --- |
| Rocket | | Axion G6 |
| Pressure | | 200psi |
| Nozzle | | 9mm |
| Water | | 1500mL + foam |
| Flight Computer | | STII |
| Payload | | HD Cam #16 |
| Altitude / Time | | ? feet / ? s |
| Notes | | Good straight high flight. Parachute deployed right at apogee. Landed in a tree and took about 1 hour to get down. Everything recovered in-tact. |