Date: 30th July 2011 8:30am - 1:00pm
Location: Doonside, NSW, Australia
Conditions: Blue skies, >5km/h wind, temp ~20C
Team Members at Event: PK, Paul K, John K, and GK
Launch Day Report
We've had a short break from water rocket construction in the last couple of weeks to catch up on a couple of other projects. This weekend we decided to fly the Polaron G2 rocket again but this time at a higher pressure to see how it held up.
We arrived at the launch site at 8:30am and the skies were blue and almost no wind to speak of. We try to only launch this rocket in calm conditions to make sure it goes in a predictable direction should things go wrong. We again used the air hose extension to the launcher so that we were well clear of the rocket.
The rocket configuration was the same as the last launch with the exception of the higher pressure of 230psi (15.8 bar). The rocket took off well and flew to 842 feet (256m) and opened it's main parachute just after apogee with the backup opening shortly after. The rocket landed gently on it's side about 30m away. You couldn't have asked for a better flight. This was our highest single stage rocket flight to date, and the second highest overall.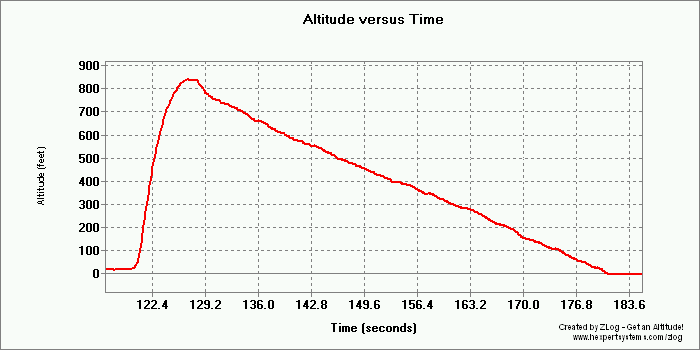 On the second launch we pressurised the rocket to 240psi (16.5 bar). The flight was almost identical to the first with both the main and backup parachutes opening at almost the same time just past apogee again. The rocket only reached 818 feet (249m) this time which was a little disappointing considering it had more pressure in it, but from the video you could see there was a slight fishtail in the flight path so some speed would have washed off then. The rocket took 69.3 seconds to land which I believe is our longest flight duration.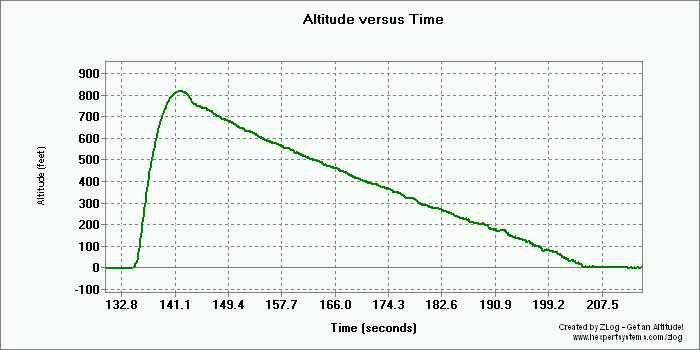 On both of these flights, the rocket wasn't pointed vertically, but angled about 5 degrees away from the people and parked cars.
Here is a highlights video of the two flights:
During the last two weeks Paul also built his new Aspire pyro rocket. He did the whole construction and painting himself with me mostly just helping to hold things. He flew it on a D12-7 motor and it went straight as an arrow and very high. The given table for this rocket and motor combination says around 1300 feet, but without an altimeter we don't know how high. He also flew a couple of his smaller pyro rockets on A motors. Both went well.
So by the end of the day we were all happy we had an excellent flight day and didn't have rockets to repair at the end of the day.
With the last 3 successful and repeatable flights of the G2 we are now fully moving forward with the second phase of the rocket. I'll post progress updates on the development of the boosters, and static tests for the second stage.
Williams Videos
One of the projects I was working on recently was to get the two highlights videos finished from the June Williams launch in Perth. So I'm including them here for completeness:
Flight Details
Launch
Details
1

| | | |
| --- | --- | --- |
| Rocket | | Polaron G2b |
| Pressure | | 230 psi |
| Nozzle | | 16mm + launch tube |
| Water | | 3800mL |
| Flight Computer | | FC V1.6 - 7 seconds |
| Payload | | Backup parachute deployment with ST II and MAD, Zlog altimeter, MD-80 clone camera. |
| Altitude / Time | | 842' (256m) / 60.36 seconds |
| Notes | | Very good and mostly vertical flight, with slight roll. Good parachute deploy and gentle landing. |

2

| | | |
| --- | --- | --- |
| Rocket | | Polaron G2b |
| Pressure | | 240 psi |
| Nozzle | | 16mm + launch tube |
| Water | | 3800mL |
| Flight Computer | | FC V1.6 - 7 seconds |
| Payload | | Backup parachute deployment with ST II and MAD, Zlog altimeter, MD-80 clone camera. |
| Altitude / Time | | 818' (249m) / 69.3 seconds |
| Notes | | Very good flight with good deploys after apogee. Landed well without damage. |

3

| | | |
| --- | --- | --- |
| Rocket | | Flygon (Paul's Aspire) |
| Motor | | D12-7 |
| Altitude / Time | | ? / ? |
| Notes | | Great straight flight with streamer deployed just past apogee. It went very high. Slightly damaged motor mount due to landing on a hard rock. |

4

| | | |
| --- | --- | --- |
| Rocket | | Thunder Bee Hero (Paul's) |
| Motor | | A10 - 3 |
| Altitude / Time | | ? |
| Notes | | Good straight flight, streamer deployed past apogee. Good landing |

5

| | | |
| --- | --- | --- |
| Rocket | | Magic Wand 2 (Paul's) |
| Motor | | A10 - 3 |
| Altitude / Time | | ? |
| Notes | | Good straight flight, streamer deployed past apogee, but got caught on the fin. Landed without damage. |