Date: 28th July 2012, 8:00am - 1:30pm
Location: Doonside, NSW, Australia
Conditions: 15 - 25km/h windy, mild ~15C, blue skies
Team Members at Event: Paul K, PK and GK
Just a short update this week. Today was NSWRA's competition day. It was a fun day because we had more spectators than normal as the competition day was advertised through the local council paper as a part of the Blacktown City games.
We also entered a couple of the competitions with our pyro rockets.
We entered Paul's rocket in the altitude and spot landing competitions. The altitude competition was based on flying nearest to the randomly chosen altitude of 341 feet. On our second flight we got to 327 feet, but were beaten by David H. with an altitude of 344 feet.
We also entered into the spot landing competition where we had to land nearest the designated flag. We got to within 29m of the flag which was the winning distance. So Paul ended up with a medal, a certificate and he also won a small pyro rocket kit. He was nice enough to give the rocket to his younger brother because he wasn't able to come due to a soccer game.
Congratulations too to Ben P. who ended up winning the egg loft competition and David H. who also won the glider duration competition when the clocks stopped at around 80 seconds when we lost sight of the glider in the distance.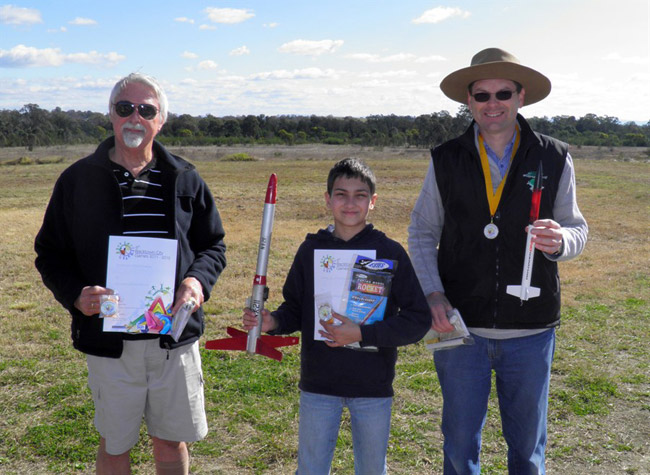 Although we brought water rockets, we only launched the Axion once due to the strong breeze. Launched at 120psi the flight was nominal and the rocket landed well without incident. Pyro rocket launches were also cut short because of the wind.
Thanks to all the NSWRA club members for all their hard work to make the comp day happen.
Scuba tanks article
Last week we put together an article on how to a use scuba tank as a water rocket air supply as we have had quite a few enquiries on how to do this. We've also added a calculator for working out how many launches you can get from a tank.

Development on other rocket projects has been continuing well, but more on that next time.

Flight Details
Launch
Details
1

| | | |
| --- | --- | --- |
| Rocket | | Flygon |
| Motor | | D12-7 |
| Altitude / Time | | ? / ? |
| Notes | | Good flight and landed well under streamer, although we had a bit of a walk to recover it |

2

| | | |
| --- | --- | --- |
| Rocket | | Axion |
| Pressure | | 120psi |
| Nozzle | | 9mm |
| Water | | 1900mL |
| Flight Computer | | ST II - 5 seconds |
| Payload | | None |
| Altitude / Time | | ? / ? |
| Notes | | Good flight with good deployment. Good landing. |

3

| | | |
| --- | --- | --- |
| Rocket | | Pod 2 (Paul's Praetor) |
| Motor | | C6-5 |
| Altitude / Time | | 308' / ? |
| Notes | | Good burn but angled into the wind. Good landing, |

4

| | | |
| --- | --- | --- |
| Rocket | | Pod 2 (Paul's Praetor) |
| Motor | | C6-5 |
| Altitude / Time | | 327' / ? |
| Notes | | Good flight, but angled into the wind again. This flight won the spot landing competition. |